Once in a while, I cross the border in order to have access to Sephora and a bunch of department stores that have brands not available in my country.
Of course that often leads to large hauls :) and this is the one I did this week-end.
As you can see, I got a few skincare items as well, including an Estee Lauder Daywear Plus tinted moisturizer with SPF that I plan on using on very hot days (if they ever come) or at least for my Summer Vacation.
Good thing I wasn't too excited about the Mac To The Beach collection, because European counters received a ridiculous amount of products (as in: 3 pieces of each item) and were sold out within a couple of hours.
I particularly wanted the blushes and the bronze Lustre Drops (I have the pink ones from last year's Style Warrior collection).
Other than that, I got a few Pret à Papier items: Coral Crepe paintpot, Cut to Fit and Gazette Grey eyeshadows.
And then I picked a lipstick I had wanted for quite a long time, after having had it applied by the mua to make sure I wouldn't scare people: Morange. Which lead me to getting the Temperature Rising lipliner from To the Beach as well, since it's a perfect match.
Then I made a little detour and went to Sephora, where I got Mauwi Wowie eyeshadow by Urban Decay, it looks like the perfect gold eyeshdaow I've been looking for for so long.
I ended up at the Bobbi Brown counter where I got 2 metallic eyeshadows, one cream (Galaxy) and one powder (Sage).
Here are a few swatches I did on my bare NC15 skin!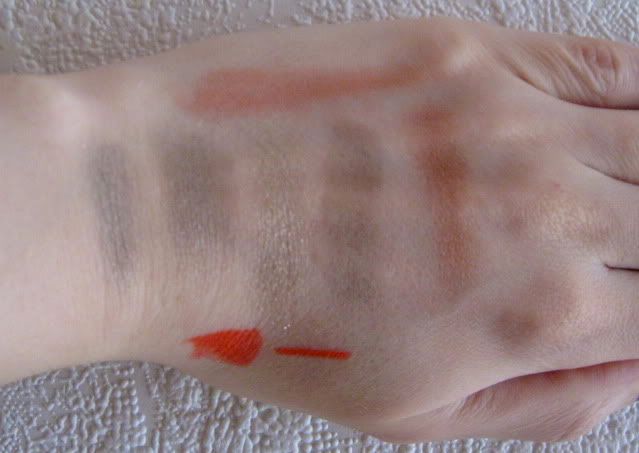 Coral Crepe paintpot; BB Galaxy cream e/s, BB Sage metallic e/s, UD Mauwi Wowie, Mac Gazette Gray, Mac Cut to Fit,
Mac Morange lipstick, Mac Temperature Rising lipliner.
Now I'm going to have to restrain from buying more makeup during the coming weeks, or my Summer vacation will be a very poor one :)
Did any of you shop for beauty stuff this week-end?