Some people collect them avidly, as most are limited editions. They are coveted, but they're also a bit of a mystery : a question that often raises on makeup forums is "What are Mac MSF's for?". And the usual answer is: some are dark enough to be a sheer blush or bronzer, most are used for highlighting. And that's also how I have been using mine so far.
Until a few days ago... On a makeup forum, I read a post from a lady, who was explaining that she used MSF's - and MSF's only - to do her full face. She was also happy to report she had met a MAC MUA who used the same technique as well. I was intrigued, so I e-mailed her for explanations. And then of course, I had to try.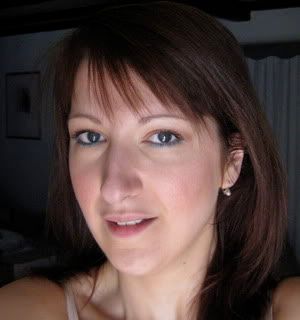 The technique is pretty simple :
1/ Keep this in mind: use cool colored MSF's for cool skin, and warm ones for warm skin
2/ Use a primer or moisturizer, and dab concealer where you need it if you want to
3/ With a dual-fiber brush like the mac 187, use an MSF that is darker than your skintone - I used Brunette. Apply in the hollow of the cheeks and blend on the temples and along the hairline on the corners of your forehead. Basically, this is contouring.
4/ Apply blush
5/ Apply a highlighting MSF on top of the blush, I used Porcelain Pink
6/ With a kabuki like the Mac 182, use a light MSF all over the face, on top of what you already apply as well as where you haven't applied anything yet.
And you're done!
How can this work, you'll ask me, and how am I not going to look like a greaseball?
Well, MSF's are light reflecting powders. By using them this way, you actually work with the way light is going to hit your face, and that is what is making your face look good. (This, and a bit of Mac mystery, maybe)
I think this works perfectly if you don't need much coverage, want to be ready in a few minutes (because it's really quick) and want a very light, non greasy product to even out your skintone, for example on very warm days. And I am definitely going to use this technique again!
If you try it, let me know your thoughts!