I'm not really into Chanel. I find they have lovely glosses, their lipsticks look gorgeous but I hate the smell. And their eyeshadows used to be infamous for their lack of pigmentation.
However they seem to have improved a few things lately, among which said pigmentation. Which is why, after having indulged into getting the Enigma quad, I let myself fall in love with the Holiday collection called les Tentations Cuivrées (coppery temptations). What can I say, anything with the word "copper" in it is just appealing to me.
And look at how gorgeous the products are:
I bought both the quad, which is really lovely with its coppery bronzy brown shades, and the Ombre d'Eau liquid eyeshadow in Splash, which is a beautiful metallic taupe with a hint of grey.
The collection also offers some bright pink gorgeousness:
But I was reasonable and decided not to get anything - pink blushes don't look good enough for me to wear them often, so I can't justify buying this pretty Fushia Tweed blush. And I do have very similar lipsticks.
So all in all, I have everythng I need to recreate the beautiful editorial look:
And so I did! Toning down the smokey eye a bit, since it's not really Christmas Eve right now.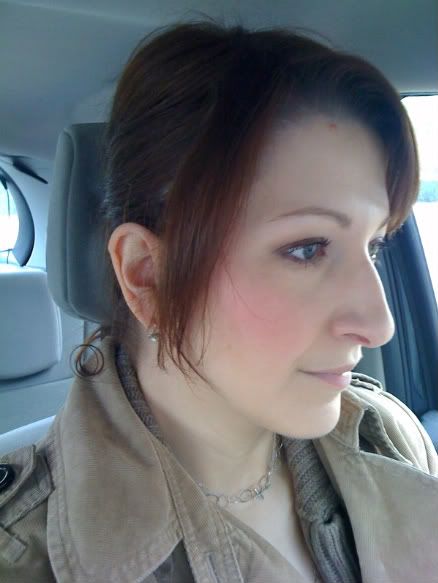 Please excuse the lack of lipstick, I obviously needed a touch up.
For reference, I used the brown shade on the lid, the white one under the brows, and the darkest shade as a liner. (But Chanel, why on earth do you put a pink in most palettes?)
Foundation is Nars Sheer Glow in Gobi.
I used Mac Tippy (LE/ from the Hello Kitty collection) on the cheeks, with a swipe of the BodyShop Berry higlighter from this season on top.
Invisible lipstick is Shiseido PK419 (what a romantic name, isn't it?).
I really love this look, I find the eyeshadow really makes my eyes even bluer - I actually liked the result so much I did the exact same look the next day, which never happens! Yay for you, Chanel.
Promo images are all property of Chanel.